A carpet can become a centerpiece in any room or part of the eye-catching design. Of course, it can also be a neutral aspect in a room. Nevertheless, carpets are capable to give the room the cozy and warmth feeling. Will you use your carpet for various activities like sitting, laying down or playing on them? Are they simply flooring for your room? Whatever is the use of your carpet, never forget that you need to give it regular care, cleaning and maintenance.
The most important care that you can give to your carpet is to give it regular vacuuming. How frequent? If the carpet is placed in a room where there is heavy traffic, do vacuuming every day. If not, at least once a week. The important thing is that you do not let dirt, dust or any soiling agents accumulate onto the surface of the carpet because when you let this happen, there will be minute particle that can get embedded in the layers of the fiber of your carpet. Once this happen regular vacuuming is not enough and this can pose serious problems for you, your family particularly to their health.
Another thing that you can do for the care of your carpet is that when stains or spills happen, immediately clean them up with mild detergent solution and then dry that area completely so that no molds and mildew appear.
But through time, dirt will accumulate; more spills and stains may get into the carpet. In this case, you need an expert – a professional who can manage to clean the carpet and able to restore it to its original quality and beauty if possible. The truth is this is entirely possible. There are skilled individuals who are knowledgeable and highly trained in giving your carpet the TLC it needs. These are the professional carpet cleaners and by professional it means they are certified and only makes use of the best cleaning methods, tools and materials.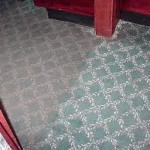 With the professional carpet cleaners at your helm, you may be spending money to get their service, but in return it will save you time and other resources. In fact, it can save you money indirectly. How it can save those resources? Consider this, when your carpet has furniture and household appliances and things on top of it, you need to move them out and back again as you clean the carpet. The effort and possible hazard of doing this is not something to set aside. With the professional carpet cleaners like those from carpet cleaning Riverside firm, they will do everything from pre-treatment of the carpet and including moving the furniture for free or for minimal fee. This saves you a lot because you can focus your time in doing other things that you like while they do great job of restoring the beauty and quality of your carpet.
There are lots of right things that can happen when you hire carpet cleaning Riverside service providers and you will understand them after seeing the results.
For more information,
KINDLY CALL US AT:  951-221-8734
Save Time and Resources With the Professional Carpet Cleaning Services